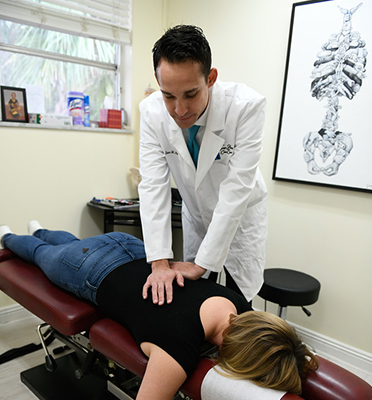 Sports Chiropractic Care: The Secret Weapon of an Athlete
Floridians are accustomed to an active lifestyle filled with sport, there are endless possibilities fortraining or participation and there is an inherent potential for a life-changing injury. Athletes need to be able to move with freedom, relative ease and without pain to avoid a prospective injury. Chiropractic sports medicine, or sports chiropractic, is an evolving sub-specialty in chiropractic healing that was established to deal directly with the care of musculoskeletal injuries that our athletes will often face, including methods of prevention.
Dr. Shane at Tampa Bay ChiroCare has a wealth of experience and can leverage knowledge to help enhance athletic performance, eliminate pain, provide the right diagnosis, prevent a catastrophic injury, rehabilitate an on-the-field injury or avoid an invasive operation. The athletes our office treats are offered therapies typically only offered to professional athletes.
Medical Conditions a Sports Chiropractor Can Treat
Dr. Shane at Tampa Bay ChiroCare specializes in diagnosing and treating sports injuries and athletic performance related injuries. He understands what it takes to minimize the likelihood of injury and how to successfully rehabilitate a patient after an injury has occurred. The treatment plans created for our local Tampa athletes are focused upon returning the injured athlete to his or her field of choice faster.
Dr. Shane works with patients who play a variety of sports and participate in a number of physical activities, including:
Tennis
Golf
Basketball
Baseball and Softball
Hockey
Track and Field
Rock climbing
Swimming
Diving
Football
The important thing to remember is that, while a Tampa area chiropractor who does not specialize in sports chiropractic could offer a simple adjustment to alleviate pain, this approach is just one part of the recovery process. Rather than a fast adjustment, Dr. Shane at Tampa Bay ChiroCare will offer a complete therapy plan for the athlete that is tailored to problem areas. This plan will often include resistance training and exercises to promote recovery and maintain muscle tone.
The sports chiropractic care available to Tampa area athletes is not reserved for those who are injured. This chiropractic therapy can also help athletes who want to avoid injuries and improve performance.
Make an Appointment to Improve Your Game
If you want the best Tampa, FL sports chiropractor, you do not need to look any further than Tampa Bay ChiroCare. Dr. Shane is experienced at building specialized treatment plans that improve athletic performance in any type of sport. Call 813-374-4020 to schedule an appointment.